There are many options for migrating SQL databases to Azure. With the latest technology you can move just the database and log files, or you can move the entire system. You could move to Azure SQL Database or you could migrate to a VM running SQL Server. The methods that you chose to move will likely depend on what tools you are currently using, your experience with SQL Server and your SQL needs once the database is in Azure. To cover all of this would probably require a 30 part blog post which unfortunately, I do not have the time to write now. In this detailed article we will touch on many of these and provide Step-By-Step guidance for the most popular methods. If you are on the most recent version of SQL Server (2014) there are far more options available to you. Since many may not have that available to them, and migrating from 2014 is so super simple, I will spend most efforts on broader availability solutions. What is super simple you ask…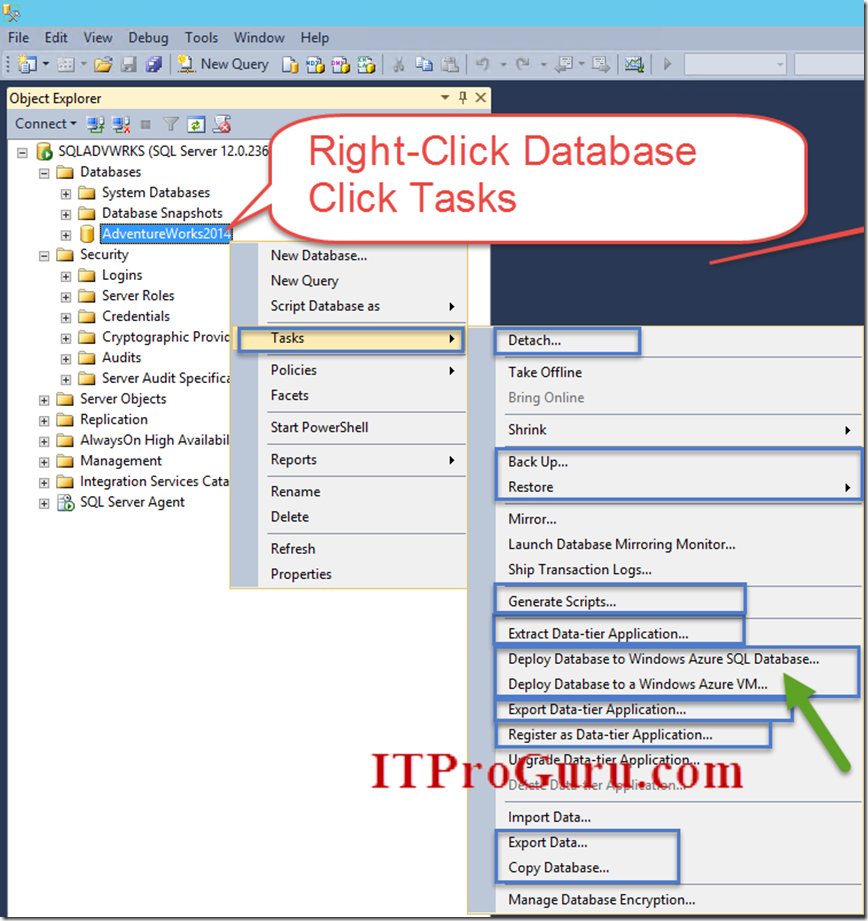 Right-Click on the database you want to move; click Tasks and you have a boat load of options for getting your database moved to Azure. Including "Deploy Database to Windows Azure SQL Database…" or "Deploy Database to a Windows Azure VM…"
Azure SQL Database
First and foremost before determining what the best method is for migrating to Azure consider what functionality you are using or need in SQL Server. Many (dare I say most) databases can be migrated to Azure SQL Database which gives you more application scalability capabilities for much less cost.
Limitations
I would not be serving you well if I did not give you some of the highlights on what gotcha's you might run into. If you are just using basic features, a small database (less than 2gb for basic, standard and premium, less than 150gb for Web & Business Edition; Exact size and pricing information can be obtained at Pricing Overview) Azure SQL Database may work for you. There are also limitations on use of Transact SQL (example: the USE statement cannot be used to change databases since the databases are not necessarily on the same machine). For more detailed information see Transact-SQL Support (Windows Azure SQL Database), Unsupported Transact-SQL Statements (Azure SQL Database) and Azure SQL Database Transact-SQL Reference. There are other limitations too (example transactional replication, database mirroring and log shipping) see Comparison of SQL Server with Azure SQL Database for a good list of differences. Remember, even if you do want to run SQL in azure but you cannot do it on Azure SQL Database due to limitations, you can run SQL Server in a VM on Azure. See Deploy SQL Server 2014 VM on Azure Cloud for Step-By-Step for creating a SQL server on Windows Azure. Because there are many complications in migrating and upgrading at the same time, I will refer you to Migrating Databases to Azure SQL Database (formerly SQL Azure) & Upgrade to SQL Server 2014 for older versions of SQL and assume you are migrating without upgrading your SQL Database version for the purpose of this article. However, if you want to stay on the same version, you could migrate to SQL Server running on an Azure VM. Azure Virtual Machines has SQL Server 2008 R2 and above in the Virtual Machine Image Gallery. If you need more than that, you could build it on Azure yourself by creating the machine then installing SQL Server yourself. I am not sure of any support or licensing implications of doing this so you may have to do a bit more research.
Migrating Databases to Azure SQL Database (formerly SQL Azure)
You can use the Generate and Publish Scripts Wizard to transfer a database from a local computer to Microsoft Azure SQL Database. The Generate and Publish Scripts Wizard creates Transact-SQL scripts for your local database. The wizard uses them to publish database objects to Microsoft Azure SQL Database. For detailed information on migration, see Migrating SQL Server Databases to Azure SQL Database and Choosing Tools to Migrate a Database to Azure SQL Database in the Migrating Data-Centric Applications to Azure guide.
Migrating Databases to SQL Database by Generating a Script of an Existing Database
To migrate an existing SQL Server database to Azure SQL Database you can export the schema as a Transact-SQL script and then execute that script against Microsoft Azure SQL Database as follows:
Export a script from SQL Server Management Studio and set the appropriate export options. Because Microsoft Azure SQL Database supports a subset of features found in SQL Server, you may have to make some modifications to the script before you are able to execute it in the cloud.

Execute the script to create the schema in Microsoft Azure SQL Database.
Step-By-Step
Using the wizard involves the following main steps:
1. Open SQL Server Management Studio and connect to an instance of the Database Engine.
2. In Object Explorer, right click a database to open a menu, select Tasks…, and then select Generate Scripts.
3. Choose objects to export.
4. Set scripting options. You have the options to save the script to file, clipboard, new query window; or publish it to a web service.
5. Set advanced scripting options.
By default, the script is generated for stand-alone SQL Server instance. To change the configuration, click the Advanced button from the Set Scripting Options dialog, and then set the Script for the database engine type property to SQL Database.
You can also set the Types of data to script to one of the following based on your requirements: Schema only, Data only, Schema and data.
After the script is created, you have the option to modify the script before running the script against an Azure SQL Database to transfer the database.