To successfully activate Windows Azure platform benefits BizSpark subscribers will need to go this very simple process:
Activate Windows Azure subscription for BizSpark / MSDN subscribers

Use the Activate Windows Azure link from MyAccount from your MSDN benefits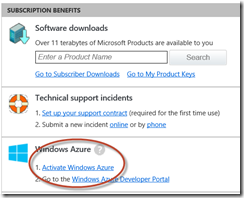 You will need to enter your Microsoft Account (LiveID) password to proceed
Enter cell phone, verify your account information, accept the license agreement, Click Purchase (no there is not a fee )

You may need to wait a couple minutes for your account to be activated. Then click on Refresh

Once your account shows Active, you can click on BizSpark to take you to the Windows Azure Management Portal

This will take you to the BizSpark Summary Screen

More Information on how to use Windows Azure to Build Your Business Coming Soon! Until then…
Training: The Windows Azure Training Kit includes a comprehensive set of technical content to help you learn how to use Windows Azure and SQL Azure. The training kit has updated content for folks using either Visual Studio 2012 or Visual Studio 2010 tool sets. It also contains plenty of content to help you learn features currently in preview such as Windows Azure Virtual Machine, Windows Azure Virtual Networks and Windows Azure Media Services.
There are plenty of tools that can be downloaded to help you get started with various technologies. I have provided the links here but additional detailed step-by-step will be provided at a later date. Download the tools:
Related Articles: