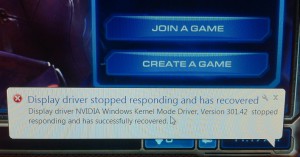 Ah, the dreaded "Display driver stopped responding and has recovered" message, aka, TDR error.
The story:
Last summer, I bumped into a Windows 7 video driver problem that was particularly difficult to cure. Moving graphics cards around and upgrading drivers didn't fix the issue. The whole saga turned out to be a bit complex, but in the end, the fix was simple. For me, and for many other site visitors, apparently. I even helped myself with this same software adjustment later on, when I had a similar problem on a Windows 8 laptop. Yay!
The solution:
This is one of those never-would-have-guessed-it fixes, where plain old stubborn determination prevailed. First, I learned a bunch about the problem, so that when I finally found this single-sentence clue by Yowan, it seemed more reasonable than random:

I fixed it by using "Prefer Max performance" instead of "Adaptive" in NVIDIA Control Panel
I quickly wrote up all the details of how to actually change this setting, and I'm so glad it's now worked out for so many. Read the full story, and the step-by-step fix instructions, at my site here:
For maimonguy, his quest is still unfolding, in the comments section, right there alongside 38 other mostly-positive outcome stories
It's simple to try the fix, and if it doesn't work for you, you can always go back to the previous settings.
A very special thank you to Dan Stolts for allowing my to post this second article right here on ITProGuru Blog, quite an honor to be invited back. Please sure to let Dan and everybody know if this article helped you, by simply leaving a comment below. Thank you!
---
See more by ITProGuru guest-author work by Paul Braren at:
TinkerTry IT @ home
Efficient virtualization, storage, backup, and more…