So far in this 31 part series that is 31 Days of Servers (VMs) in the Cloud we have learned much about what is Windows Azure is and what it can do.  But, how much does it cost?  In this edition of the series we will answer that question and more.
Free is great but then what?
The simple answer to how much Windows Azure costs to get started is easy.  It is FREE!  It is free to setup a Windows Azure Account that gives you access to a trial account that you can use for testing.  This trail account can also give you reports about your server usage if you go ahead and deploy your servers, applications and websites.  Armed with this data, you will know exactly how much your services will cost.   However, if you want to get a good idea of how much your servers will cost before you actually deploy, you can fairly easily create an estimate.   Before diving into the details, let me make sure you understand some preliminary background about pricing.   Once you do setup this FREE account, you CAN convert it and all the machines on it to a pay account.  However, this is a MANUAL process.  Even though Microsoft collects your credit card information when you setup the account, it is a FREE account and will not flip to a pay account automatically.  That means, when your trial is up, your services will no longer be available.  You will still be able to login to and access your account, but any services you have running will be shut down until you do flip it to a fee based account.  Once you do convert your account to a pay account there is no upfront costs and you only pay for what you use!
Machine Size
First when you deploy a server in the cloud using Windows Azure, you have many options for the server as Tommy Patterson outlined in his most excellent post Supported Virtual Machine Operating Systems in the Microsoft Cloud (Part 3 of 31).  When you create a Windows machine, you are not charged based on the OS.  Hence, if you are installing, Windows Server 2008, Windows Server 2012, Linux or other, the cost of the OS will not cost you more.  The size of the machine does matter.  Basically, you need to determine what size machine you want to deploy.  Your options are: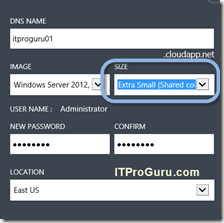 Extra Small (Shared core, 768 MB memory)
Small (1 core, 1.75 GB memory)
Medium (2 cores, 3.5 GB memory)
Large (4 cores, 7 GB memory)
Extra Large (8 cores, 14 GB memory)
Hopefully, as an IT Professional, you have some idea of what kind of resources your server or website might need.  If you are not sure, I recommend you start small and work your way up as needed. One great feature of the cloud is you can scale up very easily.  However, what you chose in the "Size" field when you create the machine is one of the main things that drives the price of a machine.
There are different payment and billing options available: