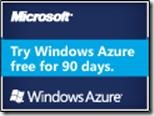 Dan Stolts welcomes Microsoft Windows Azure MVP, Bill Wilder to the show as they discuss Windows Azure and its new offerings in the area of Infrastructure as a Serviceor Azure Virtual Machines. Tune in they discuss a bevy of topics from which operating systems and servers are supported for you to spin up a VM in, to how these servers in the sky can communicate with your on-premise servers and how the other services within Azure can provide a holistic solution for all of your IT and business needs.
After watching this video, follow these next steps:
Step #1 – Start Your Free 90 Day Trial of Windows Azure
Step #2 – Download Windows Server 2012
Step #3 –Begin building your own Virtual Machines in Windows Azure!
If you're interested in learning more about the products or solutions discussed in this episode, click on any of the below links for free, in-depth information:
Resources:
Websites & Blogs:
Videos:
Virtual Labs:

Follow @technetradio


Become a Fan @ facebook.com/MicrosoftTechNetRadio


Subscribe to our podcast via iTunes, Zune, Stitcher, or RSS
Download