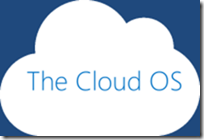 Windows Server 2012 R2 is a major upgrade where they focused on four key elements.
Mobility – Great user experience from anywhere!
Apps – Modern, agile apps for new scenarios
Big data – Easy access to any data, any size, anywhere; Powerful analytics in familiar tools
Cloud – On-demand scale, real-time performance Infrastructure designed to withstand failure; Resources managed at the datacenter scale.
Windows Server 2012 R2 Launch Blog Series Index at http://aka.ms/w012r2-01
Where Are All The Resources For Windows Server 2012 R2?
Microsoft is calling this "The Cloud OS" for good reason. I would say Microsoft tried to take all the great features they developed for themselves to run their cloud infrastructure, (you know Windows Azure, XBox Live, Hotmail, Live.com, MSDN, TechNet, Microsoft.com, Office 365, Dynamics CRM Online, Bing, etc.) and make these massive scale capabilities available to all of us by putting them in the Windows Server 2012 R2 product which we can all run in our datacenters. The changes in Windows Server 2012 R2 are on order of magnitude on par with the size and scope of the Windows Server 2008 and 2012 product releases. This is not a typical R2 feature set! A short snapshot of a few of the enhancements can be found at 2012 R2 Launch Series: Why Windows Server 2012 R2 Rocks! #WhyWin2012R2
Where do we find resources on "The Cloud OS" – Windows Server 2012 R2? Where do we get the rest of your questions answered? …
Start Here: Windows Server 2012 R2 Launch Blog Series – http://aka.ms/2012r2-01 – A new detailed post about Windows Server 2012 R2 every day from now until Thanksgiving.
Upcoming Online and in person events: http://www.meetup.com/neitpro/#calendar
Get Started with Windows Server 2012 R2 with Free Cloud Servers from Microsoft! Don't Have hardware? Build Your Lab in the Cloud with Windows Azure Virtual Machines running Windows Server 2012 R2. Try Windows Azure for free with no cost or obligations. FREE Trial http://aka.ms/azRocks Includes Step-By-Step instructions on how to setup
Get Started Now with Windows Server 2012 R2… with these FREE options!
Build Your Lab! Download Windows Server 2012 R2 http://aka.ms/GetWin2012R2, and Hyper-V Server 2012 R2 http://aka.ms/hyper-v2012r2 Step-By-Step download & Installation guides http://aka.ms/eelab
Free Poster – Windows Server 2012 R2 Hyper-V Component Architecture http://itproguru-app.azurewebsites.net/expert/2013/10/free-poster-windows-server-2012-r2-hyper-v-component-architecture/
Windows Server 2012 R2 with this FREE eBook! – http://itproguru-app.azurewebsites.net/expert/2013/10/get-started-as-an-early-expert-on-windows-server-2012-r2-with-this-free-ebook/
Free Online Training Microsoft Virtual Academy – http://aka.ms/GuruMVA
What's New In R2 on TechNet http://technet.microsoft.com/en-us/library/dn250019.aspx
Corporate Vice President Brad Anderson's In the Cloud blog – http://blogs.technet.com/b/in_the_cloud/
Licensing Information can be found here