Biggest Ever VTUG/VMware User Group Meeting in New England
1500+ attendees Mostly VMware Professionals
50+ sponsor/tracks
Microsoft Keynote by Jeff Woosley
Microsoft's John Kelbley Participated in Expert Panel Discussion
Dedicated track for Hands On Lab – IT-Camp Content

More than 240 lab lessons completed
Installed Windows Server 2012 on more than 40 laptops

Event participation from Jeff Woosley (keynote), John Kelbley (experts panel), Anne Michels (interviews), and others
Thanks so much to my extended team of helpers: Libis Bueno, Todd Cioffi, John Ross, Ron Thibeau, Peter Larson, Ed Aldrich, Clyde Johnson, Bob Borges, Bill Dwyer, Tim Mangan, Ken Olson, Janna Flannagan, Frank Quinn, Mary Jane Mangan, Mike Hall, Clyde Johnson, Dave Vantine, Jay Ferron, Patrick Mangan, A.J. Alfaro, Tom Hart, others

Giveaways: 2 xBox +Kinect Bundles, 1 Windows Server 2012 Datacenter, More
Pictures: https://skydrive.live.com/redir?resid=DE894C39FFA498A2!6299&authkey=!AEdibLf9XzjpOG8
=== Pre-Event Invite ===
Winter Warmer is VTUG's flagship event that brings together over a thousand IT professionals, dozens of vendors and VARs, and technology experts on virtualization, VDI, storage, data protection and security. Winter Warmer brings you technical presentations, hands-on labs, insightful keynotes, approximately 60 exhibitors and much more. We are launching a professional growth track that includes how to develop and conduct presentations to one or one thousand people. Winter Warmer is taking place at Gillette Stadium in Foxboro, MA on January 17, 2013. This event is free to all IT professionals! But we have limited availability so register as soon as possible so you can be a part of Winter Warmer. Register here {It's Free!} (come back and read the rest after registering)

Winter and cold weather is upon us which means Winter Warmer is approaching. Last Year's Winter Warmer was a huge success with over 1000

attendees but this year, they want it to be even bigger! So, the same great location (Gillette Stadium) with the same great leaders (VTUG) but 2013 Winter Warmer is NEW and EVEN BETTER! What's New?
More technologies (Microsoft, VMWare, Citrix, More)
More Partners and Sponsors ====>>>>> See Logo's to right
More Community Involvement (www.BostonUserGroups.org, www.WindowsBoston.org, www.Virtg.com, More)
More Prizes (Windows Server 2012 Datacenter, Xbox Console, Games, Books, Conference Tickets and much, much more!)
More Sessions, New Keynote speakers, more technology, new technology and way more knowledge sharing.
Hands-on-lab track? Yep, you asked for it, VTUG will deliver… Get Step-By-Step hands on instruction with the latest technologies. See below for details.
As if that is not enough, there will be some REALLY COOL announcements at Winter Warmer so be there and get the goods first hand. WHAT: VTUG Winter Warmer – Virtualization Maga Event
WHEN: Thursday, January 17, 2013 from 8:00 AM – 6:00 PM
WHERE: Gillette Stadium – One Patriot Place – East Entrance – Foxboro, MA 02035
WHY: Great Technical Content, Hands On Labs And Networking
How To Get the Most out of the event…

       Take the Microsoft Call To Action Challenge before the event
Agenda
8:00 a.m. Registration & Networking – Sponsor Expo -Open 8 a.m. to 6 p.m. East Side
9:00 a.m. Keynote #1 – West Side North

Speaker: Hans Bernhardt, VMware corporate SE: you what you need to know to continue virtualization and to be in a position to take advantage of the cloud

9:00 a.m. Keynote #2 – West Side Center

Speaker: Todd Smith, Citrix SE manager: best practices and pitfalls around virtualizing Desktops

9:00 a.m. Keynote #3 – West Side South

Speaker: Mike Corey, Founder and CEO of Ntirity will bring his popular VMworld session back to New England Virtualizing SQL server2012 best practices

10:00 a.m. Keynote #4 – West Side Center

Speaker: Dan Stolts + Jeff Woosley, Microsoft Technology Inside The Microsoft Virtualization Stack – Free Download of Windows Server 2012 from http://aka.ms/getWin2012. Play with it and bring your tough questions.

11:00 a.m. Keynote #5 – West Side Center

Speaker: Chris Colotti and Thomas Kraus will round things out with Virtualized Networks and what they mean for your future.

12:00 p.m. Lunch – West Side
All day labs
IDEXX Virtualizing Exchange best practices
Microsoft Hands On Labs – See Below
Keynotes for January Winter Warmer:
The Winter Warmer this year is focused on "HOW-TO" and getting things done virtualizing desktops, servers, databases and networks. We have also delivered on a promise to our members to provide insights to VMware, Microsoft and Citrix platforms to help you learn more about the leaders in virtualization. Here are just some of the valuable presentations you will be able to attend:
Hans Bernhardt, Senior SE for VMware is breathing life into continued virtualization. In this session you will learn what you need to optimize your virtualization environment and at the same time be prepared on moving to private or public cloud automation if and when you are ready.
Todd Smith, New England SE manager for Citrix will be presenting on the best practices and pitfalls for virtualizing desktops.
Mike Corey, @Michael_Corey founder and CEO of Ntirety and Jeff Szastak a Staff Systems Engineer for VMware, will speak to Virtualizing SQL 2012: Doing IT Right. This was a blow out presentation at VMworld and will give you the opportunity to ask even more questions.
Dan Stolts @ITProGuru and Jeff Woosley will take over center stage at 10 AM. Dan & Jeff will have a truly technical deep dive of the Microsoft Stack for virtualization. Free Download of Windows Server 2012 from http://aka.ms/getWin2012. Play with it and bring your tough questions.
Wrapping the morning up will be Chris Colotti, @ccolotti who is a consulting architect with the VMware Center of Excellence and Thomas Kraus who is is an Enterprise Architect within the Center of Excellence at VMware . Chris and Thomas will enlighten you on the next big wave in virtualization, Network Virtualization (aka vCNS Nicira), and how you can be prepared to take advantage of it.
East Side Presentation Breakout Rooms 1:30 p.m. Breakout Session 1 2:30 p.m. Breakout Session 2 3:30 p.m. Breakout Session 3 4:30 p.m. Happy Hour & Prize Giveaways Sponsor Expo Area – East Side
Lots of Giveaway's
Most of  the vendors/partners will have giveaways.  Here is just a sample from Microsoft alone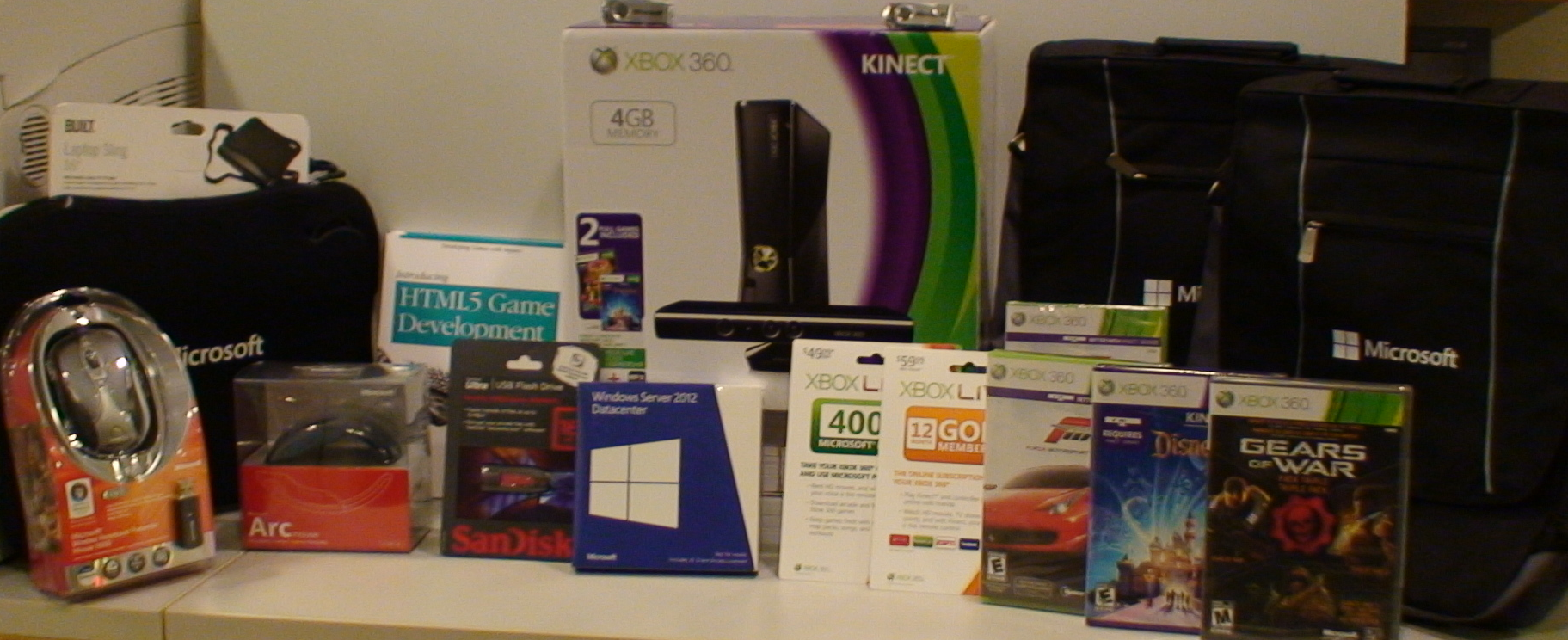 Windows Server 2012 Datacenter (25 Client Access Licenses)
XBox 360 Console with Kinect
Laptop bags and Sleeves
Xbox Games, Points and Gold Membership cards
USB Hard Drives
Mice, Books and more!
Microsoft Hands On Labs
Suggested Prep Work: follow post on http://itproguru-app.azurewebsites.net/lab
Lab Environment (see requirements below)

Lab Option 1: Bring your own machine with Windows Server 2012 already running

You can follow instructions at Video Step By Step Dual Boot Windows Server 2012(this does not require a dedicated partition or formatting your drive)
Download Windows Server 2012and install on your laptop
Setup a Lab environment by following instructions at http://itproguru-app.azurewebsites.net/lab/
Register for a free Azure Account and you can create machines and remote into these online machines to do labs (Hyper-V labs not available on azure) [Azure account requires credit card but you will not be charged until you "manually" change your account from a test to a production account!]
Setup real servers in your office and configure remote control so you can work on your real servers via RDP
we MAY have access to a few online servers (10) during the event in case someone does not have a laptop that supports Windows Server 2012 and Hyper-V

Lab Option 2: Observe Others and listen to step by step instructions by the instructor

Come without a laptop look over someone else's shoulder

Downloadable Step-By-Step Hands on Lab Guideswill be made available for all attendees so you can walk through the labs whenever you like

Installing Windows Server 2012 Dual Boot 2 VHD
Enable Hyper-V
Run Windows Server 2012 in "Laptop Mode"
Create Virtual Machines on Hyper-V
Create Virtual Switch on Hyper-V
Configure Guest Networking
Create Domain (Hint: DCPromo no longer exists)
Join Computer to domain
Configure Firewall
Configure Storage Spaces
Configure Storage Deduplication
Configure Thin Provisioned Storage (on guest OR HOST)
Configure Hyper-V Replica (requires two hosts)
Configure Shared Nothing Live Migration (Requires two hosts)
Guest Clustering (maybe ???)
More???
To participate in the hands-on lab session, you will need to bring your own computer (laptop preferred) with the following minimum configuration:
4 GB RAM (8 GB or more preferred)
At least 60 GB of free disk space (75 GB preferred)
NO Drive encryption technology (Bitlocker or 3rd party)
x64 compatible processor with hardware assisted virtualization (Intel VT or AMD-V technology) and Data Execution Prevention (DEP)
Installed OS of Windows Server 2012 (Preferred), Windows 7, Windows Server 2008 R2 or Windows 8
One Network Patch Cable {optional}
You will also need to download the following for the Hands-On Lab:
Required Download

Windows Server 2012 Trial

VHD file will be used in all labs
If you are not running Windows Server 2012 already you will need to download additional required lab files

here

(Only file needed is AutoBootVHD8.ZIP) If you do not have at least 60 GB of free hard drive space, also download Server2012RTM.zip)
Setup your environment by following instructions at http://itproguru-app.azurewebsites.net/lab/
HOL Seating is very limited
Sponsors and Partners



Long Distance Commuters: